We don't mess with nature, because nature got it right.
Our goal is to create a baby formula that closely emulates its natural source.
We dedicate ourselves to working in harmony with nature, utilizing sustainable farming methods and upholding the highest welfare standards.
Image with text
Grass feed
Recognising the vital significance of a high-quality natural diet for the well-being and happiness of our animals, we ensure that our goats flourish on a nourishing blend of locally grown grass and naturally occurring pasture plants like clover, lucerne, and other native varieties.
Image with text
Nururing our goat's
Our dedicated farmers wholeheartedly prioritise the health and happiness of our tribe, firmly believing that contented and thriving goats yield the finest quality milk. Blessed with mild year-round temperatures, our goats enjoy a lifestyle encompassing open grazing fields or spacious barns with open sides, ensuring ample fresh air and natural light. Additionally, we provide abundant space for all our goats and ensure they have access to shelter during inclement weather conditions.
Low Emission Farming
At our core, we hold a deep commitment to the well-being of the environment and tirelessly strive to prioritize sustainable farming practices. We are resolute in our efforts to minimize CO₂ emissions, and as a result, we have successfully achieved emissions that are merely one fifth of the average emissions found in global dairy farming.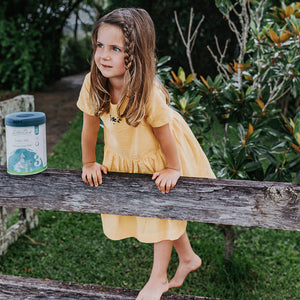 Shop by stage
Welcome to LittleOak. Are you getting started with formula? Simply select your child's stage to learn more.